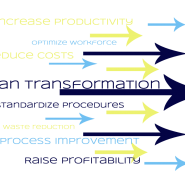 Doing More With Less
Lean Thinking is a Mindset
Lean principles are a commitment to customer and stakeholder satisfaction through waste reduction in design, manufacturing, distribution, administrative and customer service processes.
Lean Methodology Cuts Costs
Lean applications and practices reduce operation inventories, shorten lead times and free office, warehouse and plant space. In manufacturing and service sectors, and in local government, waste is reduced by increasing customer value and using less resources with greater efficiency and speed.
The VOC (Voice of Customer) is Lean
Lean principles eliminate or reduce 'muda'  - the Japanese word for any activity that consumes resources without adding value. Developed by Toyota executive Taiichi Ohno (1912 -1990) to improve the performance of their manufacturing environment, Lean has since adopted a much broader meaning to its practitioners. Popularized by James P. Womack and Daniel T. Jones in their 1996 book 'Lean Thinking', Lean principles are based on highly developed waste reduction techniques and fundamental respect for the people invested in the process.
Lean Transformations have been successful and effective in every industry to which they have been applied: from manufacturing to service industries such as banking, law enforcement, insurance and uniformed services; metropolitan, city and federal government agencies; service bureaus and most recently, health care. When tailored to the individual organization's specific needs and systemically applied, Lean Process Improvement consistently produces results, including:
Increased performance
Increased delivery and production
Cost savings
Increased employee satisfaction
Increased product quality and customer satisfaction
H4M Lean Inc. associates have the Lean expertise, managerial and corporate leadership background and breadth of industry experience to guide your business or organization into a growing, thriving, Lean enterprise.