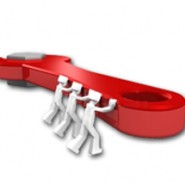 H4M Lean Standard Work Training Program
- Standardize Your Procedures & Develop Best Practices -
Fluctuation in quality occurs when guidelines are not consistently met, often due to lack of a baseline procedure that every worker follows. Standard Work is the baseline for these procedures. With Standardized Work, your team can understand and build —through forms and diagrams charting your progress — standardized work procedures that can become the foundation for your company's future improvements.

What is Standard Work?
Standard Work is the consistent performance of a task by all employees of a job classification, with respect to:
Takt Time: Setting the pace to meet customer demand
Work Sequence:

Application of a standard method:

Standardized Work Combination (SWC) Chart
Standardized Work Diagram (SWD)
Standardized Work Instructions

Standardized Work-In-Process

Establish minimum running stock kept at work stations
Program Description
The H4M Standard Work program is designed to teach companies to write standard work instructions, determine standard work in process, understand Takt time and more through an understanding of Lean standard work. The program will illustrate methods of documenting your company's current operating procedures so that 'best practices' can be developed to anticipate the pace of customer demand, and create more streamlined processes that can be improved over time.
Our custom-tailored presentation offers examples and case studies, with concepts such as Takt time, work sequence and standardized work-in-progress broken down and explained so your team can adapt these theories to fit practical applications. Participants learn to effectively apply Lean principles to continuously improve baseline standards, and create a good foundation for perfecting all processes— an endeavor that will yield more benefits over time.
INQUIRE ON SCHEDULES & REGISTRATION
Course Objectives
Learning to prepare and create standardized work
Learning to use the forms and charts required
Learning ow to time a process or person
Understanding how to identify elements to study
Learning to describe and implement the Lean principles of Standardized Work and its elements:

Takt Time (TT)
Work Sequence
Standardized Work Combination (SWC) Chart
Standardized Work Diagram (SWD)
Standardized Work Instructions (SWI)
Standardized Work in Process (SWIP)
Course Outline
1. Standardized Work definition
2. Benefits of Standard Work
3. Elements of Standardized Work:
Takt Time
Work Sequence
Standardized Work In Process (SWIP)
4. Steps to Create Standardized Work
Area Layout
Standardized Work Combination Table
Standard Work Analysis Sheet
Standard Work Instruction
5. Case Studies & Examples
6. Conclusion
ASK ABOUT THE H4M STANDARD WORK PROGRAM