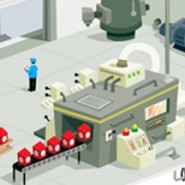 H4M Lean SMED Workshop
- Dramatically Reduce Setup & Adjustment Times -
In these times of rapidly increasing diversity and smaller batch sizes, set-up time reduction is of crucial importance for the profitability of many companies. Bottling industries, for example, sometimes spend more than 20% of their planned production time on changeovers. Fortunately these set-up and changeover times can be reduced significantly with SMED ; a Lean system with a proven track record in many industries.
What is SMED?
Single Minute Exchange of Dies (SMED) is an approach for decreasing output and quality losses due to changeovers. Developed in Japan by Shigeo Shingo, the SMED method has proven its effectiveness by reducing changeover times from hours to minutes.
There are 4 phases of the SMED process:
Mixed phase
Separated phase
Transferred phase
Improved phase
Through analysis of the changeover process and in combination with greater teamwork and sense of ownership, SMED leads to significant reductions in setup and changeover times.
Course Description
The strength of the SMED method is the systematic analysis of what is actually being done and how time is spent during the changeover period. This 1- day course introduces participants to SMED, and the use of this analysis to gain a better understanding of activities while the line is running, and determine what can be done to reduce 'fine-tuning' activities after the changeover is performed. Participants will gain a working knowledge of the tools and techniques to effectively implement set-up reduction through a hands-on workshop.
Target Audience
Engineering and maintenance personnel, manufacturing and production shop floor supervisors, set-up personnel and operators.
INQUIRE ON SCHEDULES & REGISTRATION
Program Objectives
This course will enable participants to:
Understand the principles of SMED and set-up reduction
Understand the benefits of applying set-up reduction to achieve true flow production systems
Understand the different set-up reduction tools and techniques
Gain a working knowledge of the tools and techniques to effectively implement set-up reduction
Course Outline
Background of SMED
Moving from Batching to Flow Processes
Types of Set-up Activities
Internal Set-up
External Set-up
Basic Steps in Set-up Process
Stages of Set-up Improvement
Separating Internal and External Set-up
Converting Internal to External Set-up
Streamlining the Set-up Operation
Techniques for Applying SMED
Advance Preparations
Function Standardization
Implementation of Parallel Operations
Elimination of Adjustments
Mechanization
Standardizing Set-ups
Case Studies
Hands-on Workshop
GET MORE INFORMATION ON SMED WORKSHOPS