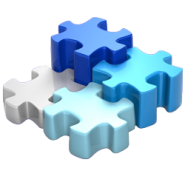 The H4M Lean Consulting Group Associates
The H4M associates are a unique group of professionals with a wide range of collective experience in a variety of industries and sectors in Canada, the US and abroad.
Our consultants' expertise in Lean tools, systems and methodologies and dedication to Lean principles make H4M Lean Consulting Group a front-runner in the field of Lean Transformation and Lean training.
Please contact us to find out more or inquire about any of our Lean Consulting & Training services.
Hamid Zarazvand, DEISE, P. Eng.
President and CEO of H4M Lean Consulting Group Hamid Zaravzand has over 25 years of experience in all phases of Lean Transformation strategies in the manufacturing and service sectors, municipalities and more.
Holding a Master's degree and Engineering Doctorate from the University of Southern California (USC) in Industrial and Systems Engineering (ISE), Mr. Zarazvand has an extensive professional background in engineering, production & material control, process improvement and quality assurance as a Lean champion and a Lean practitioner.
With more than 20 years of executive leadership experience at leading firms, including VP of Operations for a multi-plant / international manufacturing company, Mr. Zarazvand has initiated and been directly involved in the successful implementation and maintenance of Lean thinking; utilizing tools such as 5-S, Kanban, Kaizen, and VSM in a variety of industry sectors and municipal operations. He has coordinated, conducted and instructed both in-class and on-site seminars and workshops related to Lean principles & methodologies for all levels of staff and management for client businesses and organizations.
Ali M. Taghipour, BSc
Ali Taghipour has over 35 years of experience in finance and cash management in the industry and banking sectors. Highly proficient at developing and implementing cash management operations for large corporations, Mr. Taghipour enjoys sizing up difficult situations and developing strategic solutions.
Before joining H4M's North American and Asian operation in 2011, Mr Taghipour applied process improvement principles in many different manufacturing / service environments; resulting in increases of 25% in profitability, 30% in productivity and 40% reductions of inventory. These improvements ultimately led to the reversal of the need for extreme downsizing or lay-offs of experienced workers; leading Mr. Taghipour to become one of the foremost Lean financial practitioners.
As an associate for the global arm of H4M Lean Consulting, Mr. Taghipour has been responsible for the oversight of consultancy results, cultivation of client relationships and brand development in the commercial / financial and health care sectors.
Ali A. Motaghedi, MS
Ali Motaghedi is CFO of several companies, with over 30 years of financial management experience in the service sector and an excellent record of implementing Lean principles and methodologies in administrative / office environments.
Mr. Motaghedi shares the H4M team's passion for waste reduction, process improvement and voice of customer (VOC) activities. He holds MSc in Management with an option in Financial Management from West Coast University, Los Angeles, California and has an extensive background in initiating product cost accounting to managers as a basic tool for analyzing Lean throughout the company.
From his roots in cost accounting in the service sector, Mr. Motaghedi rose to leadership positions in the manufacturing and service sectors to establish work standards, cycle times and work-sampling techniques as raw data for product cost accounting.
Mohamad G. Tahaffari
Mohamad Tahaffari has over 25 years of experience in Lean procurement approaches in a range of industries.
Mr. Tahaffari is an expert in using Lean tools such as the Kaizen 'blitz'; specializing in purchasing and sourcing the technical aspects of Lean Transformation in internationally operating firms: Reducing lead-times by almost 50%, increasing inventory turns by more than 4x a year, setting up inventory Kanban and reducing inventory levels by 30% and optimizing movement of material between inventories.
Hushyar Faghihi
Hushyar Faghihi has over 20 years of experience implementing world-class Lean Transformation tools and Lean culture in manufacturing and consulting firms.
Mr. Faghihi has extensive knowledge on productivity improvement techniques and managing Lean operations, and has a strong professional background as a Lean expert; practicing Lean tools such as Kaizen and strategic management in collaboration with Japanese partners.
A specialist in Lean Transformation at macro-economic and international industry levels, Mr. Faghihi has significant experience in designing, planning and running textile industry units as well as implementing Lean productivity techniques in industries such as auto manufacturing.
Mojdeh A. Ghafari, BSc
Mojeh Ghafari has over 15 years of experience in the health sciences and safety standards within a variety of industries and service sectors.
As a Health and Safety professional and one of the few experienced Lean practitioners in the field, Ms. Ghafari has spent the last 10 years delivering a range of educational development and training courses within the H & S sector.
Ms Ghafari's work is always to the benefit of employer and employees. She has an excellent history working with nursing homes in process optimization and waste reduction, and her expertise in implementing the 5-S System in hospitals and related health care industries enables firms and facilities to achieve sustainable process improvements with related cost savings.
Maryam Zarazvand
Maryam Zarazvand has over 5 years of consulting experience with small to mid-scale health care providers in the industry and service sector.
As a Health and Safety specialist, Ms. Zarazvand has initiated the application of Lean principals in health care systems such as hospitals and long-term care facilities. Her expertise includes Lean process improvement, health care facility design, and internal training; with a passion for team coaching, competitive collaboration and integrating the needs of individuals into the change process.