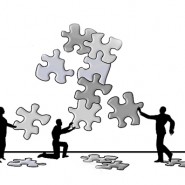 The H4M Kaizen Workshop
Problem-Solving in a Lean Environment
Kaizen is a method of using cross-functional resources in short periods - or bursts of dedicated time - to effectively improve processes using Lean tools such as line balancing, DMAIC (Define, Measure, Analyze, Improve, Control), SMED (Single Minute Exchange of Dies), Value Stream Mapping, 5-S techniques and time observations. Many organizations lack the time to effectively problem-solve, resulting in 'band-aid' improvements. Kaizen is an intense, well-defined event that helps companies problem-solve with a systematic approach that utilizes people in a dynamic and fast-paced environment; usually at the origin of the issue.
What is Kaizen?
'Kaizen' is a Japanese term that refers to philosophies or practices of continuous improvement of processes in manufacturing, engineering, and business management. Kaizen has also been successfully applied in healthcare, psychotherapy, life-coaching, government, banking, and many other industries.
When applied to the workplace, Kaizen activities are those that continually improve all functions, and involve the entire organization from the CEO to assembly line workers. By improving standardized activities and processes, Kaizen aims to eliminate waste in the supply chain and processes that cross organizational boundaries, such as purchasing and logistics.
Course Description
This 3 - 5 day H4M Lean course (depending on the complexity of the process) is designed to teach participants to problem-solve in a team environment through the use of Lean thinking. Using the principles of Lean, participants work together to plan and implement improvements to a defined topic. Scope and boundaries are established and the team attacks the issue until resolution is implemented.
INQUIRE ON SCHEDULES & REGISTRATION
Target Audience
Everyone in the organization. Kaizen is the engine of the Lean journey and the most important part of Lean philosophy. It is here that 'things get done'.
Learning Objectives
Understand what a Kaizen event is
Describe the DMAIC process
Document Kaizen results
Understand the power of cross-functional teams
Course Outline
What is Kaizen?
DMAIC Steps
Introduction to Value Stream Mapping
Implementation of Improvements
Controlling the changes
Documenting and sharing results
FIND OUT MORE ABOUT H4M LEAN KAIZEN WORKSHOPS